Named for Norman Lau Kee, a revered legal and community pillar of New York City's Chinatown for decades, the Trailblazer Award honors an accomplished leader in the legal profession who is of Asian Pacific American (APA) descent or has demonstrated dedication to APA issues in the community. This award honors an individual who has carved a path for others to follow, served the community as a mentor and role model, and has made a lasting impact on the APA community through his or her dedication and commitment.
Hon. Doris Ling-Cohan, 2020 Recipient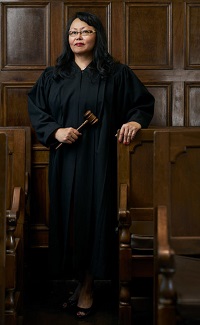 Growing up in Chinatown to immigrant parents, Justice Doris Ling-Cohan was inspired to pursue a legal career after witnessing first-hand from her family's experiences how individuals who did not speak English or were not able to access legal help were unrepresented in the court system. After graduating from New York University School of Law in 1979, she has worked as an attorney in legal services, handling matters involving landlord-tenant disputes and government benefits, as an Assistant Attorney General, and as a law professor. In 1995, Justice Ling-Cohan became the first Asian American elected to represent the Chinatown district in New York City's Civil Court and in 2002, she became the first APA woman elected to the New York State Supreme Court. Justice Ling-Cohan later became the first APA woman to serve in her current position sitting on the New York State Supreme Court, Appellate Term, First Department where she hears appeals from New York's civil and criminal courts.
Throughout her career, Justice Ling-Cohan has worked hard to increase representation for socially disadvantaged groups. In the 2005 Hernandez v. Robles case that garnered widespread media attention, Justice Ling-Cohan was the first New York State trial judge to rule in favor of same-sex marriage, years before New York State and the United States Supreme Court legalized it. Outside of the courtroom, Justice Ling-Cohan helped found the New York Asian Women's Center (now Womankind), a non-profit organization that provides resources and aid to APA survivors of gender-based violence. As a Commissioner of the NYS Court's Franklin H. Williams Commission, she currently co-chairs the Youth Diversity Pipeline Project and has organized successful programs for diverse high school kids to come to the courts and interact with judges and other court personnel. By doing so, she aims to increase diversity in the legal and judicial ranks. During the Covid-19 shutdown, she organized a "Hate Is A Virus Too" online program for diverse high school kids to discuss the recent spate of hate crimes and harassment, and has other events planned.
Justice Ling-Cohan has been a trailblazer and role model in the APA community, especially among APA women, paving the way for those interested in the legal field. Not only is she a founding Board member of the Asian American Bar Association of New York, she has also served as the National President of the Asian Pacific American Judicial Council affiliated with NAPABA. Justice Ling-Cohan continues to mentor and support current and former interns that she has employed in her chambers.
Justice Ling-Cohan's accomplishments have been recognized by the media, academia and others:
In 2017, NAPABA presented her with the Women's Leadership Award which is presented to an individual who has demonstrated professional excellence and leadership as well as making significant contributions to the APA legal community;
In 2016, NYU School of Law's Women of Color Collective recognized her with a Women of Distinction Award;
In 2015, she received the New American Pioneer Award from the New American Leaders Project.
In 2015, the National Law Journal named her to its list of Outstanding Women Lawyers;
The New York Post selected Justice Ling-Cohan as a finalist for the 2005 Liberty Medal Lifetime Achievement Award, for her work demystifying the courts and providing access to immigrants and others;
The NYS Dispute Resolution Association honored for her leadership in bringing an innovative mediation program into Civil Court;
The above list represents only a small sample of the honors and accolades she has received for her dedicated service over the years.
Past Recipients
2019
Parkin Lee
Chief Legal Officer, Rockefeller Group
2018
Kin Ng
Bureau Chief, Red Zone Trial Bureau, Kings County District Attorney's Office

2017
Hon. Randall T. Eng
Presiding Justice, Appellate Division, Second Department

2016
Sylvia Fung Chin
Partner Of Counsel, White & Case LLP
2015
Rockwell "Rocky" Chin
Attorney & Community Activist
EEO Investigator, New York State Insurance Fund
2014
Hon. Marilyn D. Go
United States Magistrate Judge, Eastern District of New York